Activate Tree Planting Festival - Wave Rock 2023
Date: 7-10 July 2023
Location: Katter Kich (Wave Rock)
══ ✮ 𝗔𝗖𝗧𝗜𝗩𝗔𝗧𝗘 KATTER KICH (Wave Rock) 2023 ✮ ══
Visit the Facebook event page here
Activate Tree Planting is thrilled to invite you to our first Tree Planting Festival in Katter Kich, also known as Wave Rock!
The perfect opportunity for a weekend getaway to enjoy a full THREE DAYS of community, dancing, workshops, connection, games, relaxing, live music, camping and of course planting 50,000 native seedlings!
 𝙋𝙇𝘼𝙉𝙏𝙄𝙉𝙂 𝘼 𝙁𝙊𝙍𝙀𝙎𝙏
Thanks to the ongoing support of Trillion Trees we are excited to start the restoration process for the surrounds of Wave Rock and bring it back to it's former beauty.
Sheenagh Collins is a landowner located in Hyden, working to repair a degraded section of land on her property. Significant past clearing of much of Western Australia's native bushland has caused serious environmental issues including salinity, soil erosion and the loss of native fauna habitat. This partnership will assist Sheenagh to continue her goal of restoring this degraded area to a biodiverse Eucalypt woodland.
𝙒𝙀 𝙒𝙄𝙇𝙇 𝘽𝙀 𝘿𝘼𝙉𝘾𝙄𝙉𝙂!
You can be sure that our famous farm-field mobile DJs will be back! Bringing the high-vibe tunes to elevate your day of planting and keep you grooving while you restore the land.
Evenings at HQ will be a treat for your ears – funky live bands, pumping DJs, talented vocalists, jam sessions and camp-fire sing-alongs galore!
𝙉𝙊 𝙀𝙈𝙋𝙏𝙔 𝘽𝙀𝙇𝙇𝙄𝙀𝙎
Leave your camp stoves at home, our legendary Kitchen Witches have got you covered; all your meals for your entire weekend are provided!
They will be nourishing us all with freshly made, almost entirely organic, healthy, and delicious meals made with care and love. Dietary requirements will be catered for. The absolute best way to end a day of planting together is to gather for a wholesome communal meal together.
𝙇𝙀𝘼𝙍𝙉𝙄𝙉𝙂, 𝙀𝙉𝙂𝘼𝙂𝙄𝙉𝙂 & 𝙇𝘼𝙐𝙂𝙃𝙄𝙉𝙂
So much room for activities! We are planning a diverse schedule of workshops, games and activities for you to engage with.
We are finalising the weekend schedule for you but the kind of things you may experience are nature connection walks, team games, Aboriginal cultural experiences, live art, morning yoga, guided meditation and so many great  activities for young and old!
𝙍𝙀𝙇𝘼𝙓 & 𝘾𝙊𝙉𝙉𝙀𝘾𝙏 𝙒𝙄𝙏𝙃 𝘾𝙊𝙈𝙈𝙐𝙉𝙄𝙏𝙔
Dance with new friends, yarn around the campfire, stretch out under the stars, breathe in the fresh country air and celebrate your weekend achievements. Activate is a community of incredible humans and we are stoked for you to be joining us this July.
 KATTER KICH & LAKE MAGIC  
Katter Kich is a true WA icon. Spanning a massive 110 meters long, this nature's wonder is thought to be 2,700 million years old. It is the north face of a larger rocky hill known as Hyden Rock.
Katter-Kich has strong cultural connections for the Noongar people who used this extraordinary place as a meeting place. About 20 minutes drive north of Hyden is Mulka's Cave in The Humps Nature Reserve, which has a wealth of Aboriginal rock art with over 450 individual items from hand stencils to paintings and motifs.
We will be planting a few kilometres away from Katter Kich, around Lake Magic, which is a  naturally occurring salt lake with gypsum minerals at its base and a sandy, circular beach surrounding it. The water is clear, but very salty, even if you can't swim, you wont sink.
Over the weekend, you'll have the privilege to see the changing colours over this incredible landscape, wake early to see the sunrise at the lake, and experience the sunset over the rock.
𝘞𝘦 𝘢𝘤𝘬𝘯𝘰𝘸𝘭𝘦𝘥𝘨𝘦 𝘵𝘩𝘦 𝘛𝘳𝘢𝘥𝘪𝘵𝘪𝘰𝘯𝘢𝘭 𝘖𝘸𝘯𝘦𝘳𝘴 𝘰𝘧 𝘵𝘩𝘦 𝘭𝘢𝘯𝘥 𝘸𝘩𝘦𝘳𝘦 𝘵𝘩𝘪𝘴 𝘦𝘷𝘦𝘯𝘵 𝘪𝘴 𝘩𝘦𝘭𝘥 𝘢𝘯𝘥 𝘳𝘦𝘤𝘰𝘨𝘯𝘪𝘴𝘦 𝘵𝘩𝘦𝘪𝘳 𝘤𝘰𝘯𝘵𝘪𝘯𝘶𝘦𝘥 𝘤𝘶𝘴𝘵𝘰𝘥𝘪𝘢𝘯𝘴𝘩𝘪𝘱 𝘢𝘯𝘥 𝘤𝘰𝘯𝘯𝘦𝘤𝘵𝘪𝘰𝘯 𝘵𝘰 𝘵𝘩𝘦 𝘭𝘢𝘯𝘥, 𝘸𝘢𝘵𝘦𝘳𝘴 𝘢𝘯𝘥 𝘤𝘰𝘮𝘮𝘶𝘯𝘪𝘵𝘺. 𝘞𝘦 𝘱𝘢𝘺 𝘰𝘶𝘳 𝘳𝘦𝘴𝘱𝘦𝘤𝘵𝘴 𝘵𝘰 𝘌𝘭𝘥𝘦𝘳𝘴 𝘱𝘢𝘴𝘵, 𝘱𝘳𝘦𝘴𝘦𝘯𝘵 𝘢𝘯𝘥 𝘦𝘮𝘦𝘳𝘨𝘪𝘯𝘨. 𝘞𝘦 𝘤𝘦𝘭𝘦𝘣𝘳𝘢𝘵𝘦 𝘵𝘩𝘦 𝘴𝘵𝘰𝘳𝘪𝘦𝘴, 𝘤𝘶𝘭𝘵𝘶𝘳𝘦 𝘢𝘯𝘥 𝘵𝘳𝘢𝘥𝘪𝘵𝘪𝘰𝘯𝘴 𝘰𝘧 𝘈𝘣𝘰𝘳𝘪𝘨𝘪𝘯𝘢𝘭 𝘢𝘯𝘥 𝘛𝘰𝘳𝘳𝘦𝘴 𝘚𝘵𝘳𝘢𝘪𝘵 𝘐𝘴𝘭𝘢𝘯𝘥𝘦𝘳 𝘌𝘭𝘥𝘦𝘳𝘴 𝘰𝘧 𝘢𝘭𝘭 𝘤𝘰𝘮𝘮𝘶𝘯𝘪𝘵𝘪𝘦𝘴 𝘸𝘩𝘰 𝘢𝘭𝘴𝘰 𝘸𝘰𝘳𝘬 𝘢𝘯𝘥 𝘭𝘪𝘷𝘦 𝘰𝘯 𝘵𝘩𝘪𝘴 𝘭𝘢𝘯𝘥.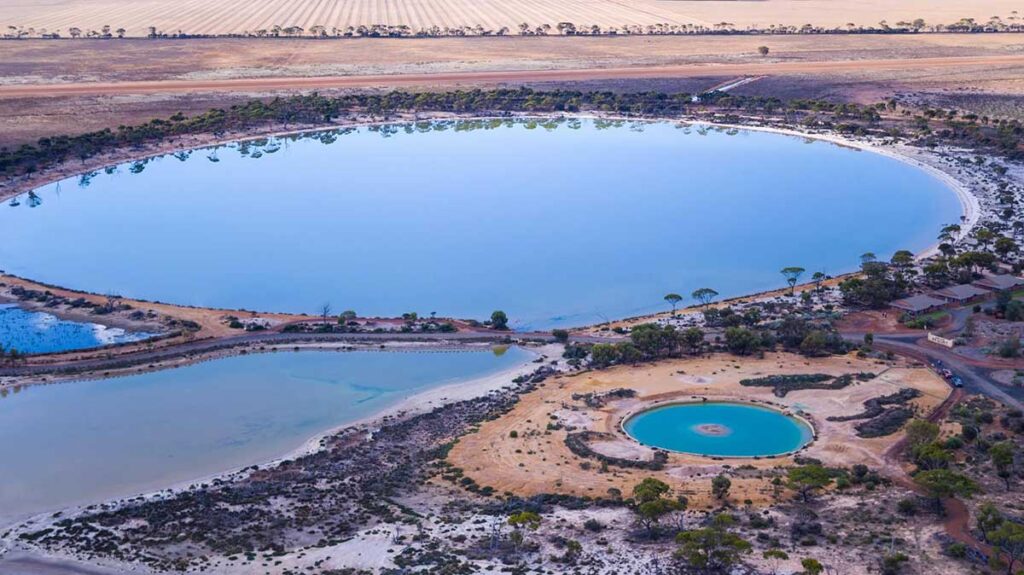 PLEASE DO NOT ATTEND THE EVENT IF YOU HAVE
fever or symptoms of respiratory infection (cough, sore throat, shortness of breath)
returned from overseas in the last 14 days
been in close contact with a confirmed case of COVID-19: (coronavirus) in the last 14 days
Remember refunds can only be given up to one week prior to the event, so we have time to find new tree planters to put the seedlings in the ground. (If you cannot attend at the last minute, and give your ticket to someone else, please let us know)
Ticket terms and conditions can be accessed here